LOCATION & CONTACT
Our environment does not leave you indifferent, we are in a privileged position in the historical center, surrounded by entertainment venues and hottest restaurant in town, where you can enjoy an unforgettable ride along the banks of the Guadalquivir river at once
to enjoy the unbeatable views of the Roman Bridge environment, the great Mosque-Cathedral (250 meters) and the nature reserve of the Sotos de la Albolafia, this ride is recommended at dusk or at night when you can appreciate the nuances,
colors and sensations that bring them to the place.

If traveling by car, there is public parking just 50 meters Parking Paseo de la Rivera, (the address to put in GPS would Paseo de La Rivera, 2). It is advisable to first access the parking, and walk to the apartments
(50 meters), so avoid giving a great return and drive through very narrow streets to get to the door of the apartments.


If you want to park in free public area, crossing the river by the bridge of Miraflores about 600 meters there is a free parking area.
IMPORTANT: Do not circulate in the Ronda de Isaac, is a restricted area to public vehicles (taxi and bus). Private vehicles are sanctioned.
VERY IMPORTANT: HISTORICAL CITY OF CÓRDOBA - ACCESS CONTROL SYSTEMS (ACIRE)..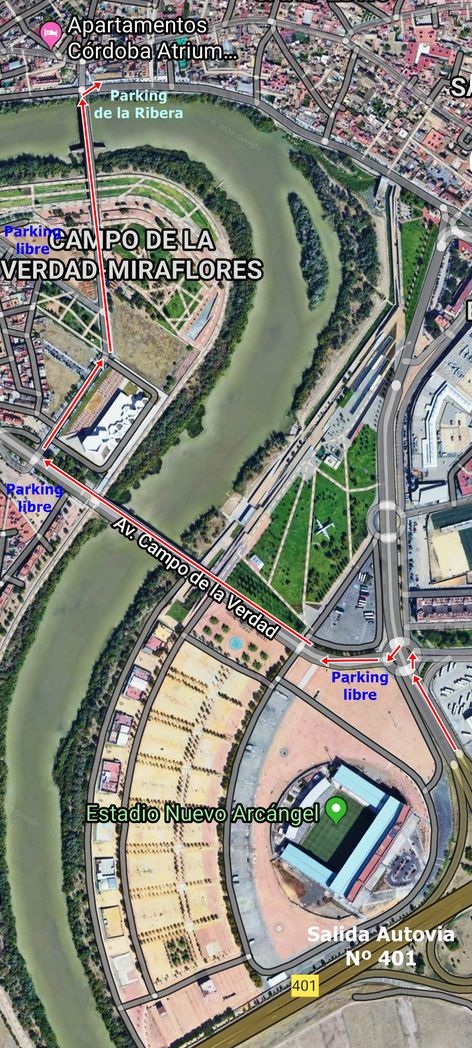 Your email address will not be published. Required fields are marked with

 *